Celebrating 25 years of Plumbing and Heating Services
Posted on: 09/05/18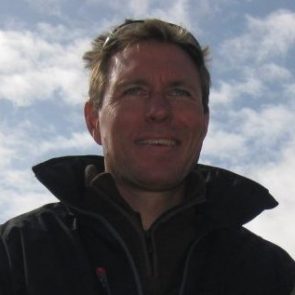 As reported in Lymington Times Business Pages (April 2018) 
When Sean Ward set up his own plumbing and heating business in May 1993, he's the first to admit "there was no plan."  The plan didn't go beyond earning enough to cover rent, the odd (!) pint in the Chequers on a Friday night and sailing at the weekend.
At 25, with a City & Guilds plumbing and heating apprenticeship, 4 years' industrial and domestic experience, 5 years' experience on the tools, a turquoise Austin Maestro, nicknamed the "tractor" and a "can-do" attitude, Sean set up Aqua Plumbing & Heating Services Ltd.
A quarter of a century on and Sean's proud to have 12 vans on the road, 12 engineers, half of whom were taken on as apprentices and have worked hard to become fully qualified tradesmen and 3 full time office staff.
Sean explains "the apprenticeship scheme is invaluable, we certainly wouldn't be here without it, we give apprentices the opportunity to work alongside highly skilled engineers, gaining practical experience and importantly learning the art of customer service."
"We have had our moments though, I remember one member of staff, many years ago, calling in to say he couldn't come in because he was tired after a long night beach fishing!  He didn't do that again and didn't last long with us either!"
Of course, being a plumbing and heating engineer and running a successful business are two completely different things.  Growing the business and riding two big recessions, the lightbulb moment came when a customer (and local businessman) suggested that running a plumbing and heating business didn't necessarily mean being "on the tools" forever.
Sean had to take a step back from the hands-on side of the business, to run the business.   He took on a full-time member of staff in the office and more engineers which freed him up to focus on the bigger picture.  Working with a business coach, reading business books, Sean learnt the importance of process, planning and appreciating the individuals around him, both customers and staff.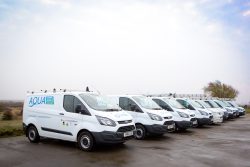 As the company has grown Aqua Plumbing has become more than just one man and his van, but a friendly team of qualified individuals each great at what they do, keen to provide the best service so customers come back time and time again.
Testament to this is the fact that many customers have remained loyal for all 25 years, recommending Aqua Plumbing to friends, family and neighbours. "Customers are the lifeblood of our business" Sean explains "we're proud of our reputation.  After all, if you only want great feedback you should only do great work."
As Highcliffe estate agent Mitchells commented "we don't recommend trades to our clients lightly, but we have been recommending Aqua Plumbing & Heating for 25 years because we have absolute confidence in them."
The job of the plumbing and heating engineer has evolved over the years though, with modern high-end bathroom installations comes the demand for lots of different trades on site, so having an in-house project coordinator to sort them all out, plan timescales and coordinate workload has been invaluable.
When asked about the next 25 years, Sean laughed "I'd quite like a rest this summer!  Seriously though, we'll stay focused on what we're good at.  Aqua Plumbing & Heating continues to grow, as demand increases but we wouldn't have it any other way!"
For further information call 01590 671875 or https://www.aquaplumbingltd.co.uk/contact-us/