Can you spot the bathroom TV?
Posted on: 16/05/19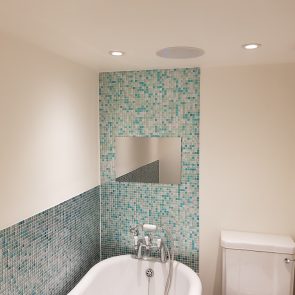 What better place to relax, unwind and catch up on your latest 'soaps' (pardon the pun!) than in a deep, warm, soapy (!) bath. You might not spot the TV at first, but this beautifully sleek, yet uncannily deceptive mirror inlaid flush with the tiling above the bath is actually a TV.
Not just any old TV though, this model is splash-resistant, fitted with demister pads, built-in ceiling speakers and transforms from TV to elegant mirror when not in use.
We were called in to fully modernize this bathroom at the bottom of Lymington High Street, installing the bathroom TV mirror flush with the tiled back panel, giving this very simple but stylish bathroom a luxurious dimension. The ultimate in technology providing convenience and entertainment.
If you're after something unusual or bespoke, we're fully up to date with the latest technological innovations to make your bathroom and en-suite spaces that little bit special.
Get in touch with one of our friendly team on [email protected]or call 01590 671875.
Categorised in: Latest News