Wood pellets fuel beautiful barns
Posted on: 04/06/15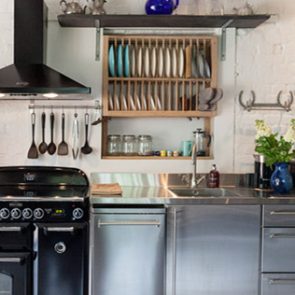 We have completed a beautiful and original plumbing and heating installation at Warborne Farm, winner of the Agricultural Building Design Award 2014, a 180 acre family-run farm situated on the edge of Lymington.
When they asked Aqua Plumbing & Heating to help convert two 170 year old barns into beautifully designed double height holiday apartments and the grain store and animal stable into three very high specification holiday apartments, we jumped at the chance.
It was imperative that all apartments were to be supplied with heating and hot water in a highly efficient, reliable and renewable energy source, to support the very ethics of this long standing family run farming community.
Because of the need for greater efficiency and to provide central heating and hot water not only to all the holiday lets but also the main farmhouse and staff cottages, we recommended and installed a Biomass Wood Pellet Boiler, installed in an outbuilding, with the wood pellet hopper located outside the store, with access for fuel lorries to refill.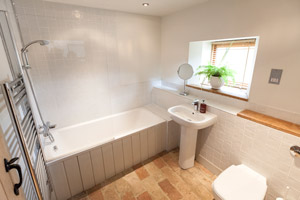 We installed underfloor heating in the ground floor and all the bathroom and cloakroom fittings in every apartment. The central heating and hot water is distributed via heavily insulated underground pipework. These pipes were installed in such a way that they would supply each site individually so that each one did not affect the others.
We installed two biomass boilers fitted together so that if for any reason one failed then the other would continue working as a back-up providing central heating and hot water for all the apartments.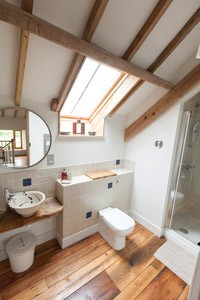 The beauty of the biomass boiler system is that it replaced three very inefficient oil boilers. Now, rather than having a large oil fuel bill, with this cheaper fuel source of wood pellets, because of the governments Renewable Heat Incentive (RHI) the family receive a regular tariff which means they're financially better off instead of being at the mercy of paying fluctuating oil prices. Their annual net gain compared to their previous outgoing payments for oil bills has greatly improved.
Not only was this an ethical install but we also got to construct and fit all sorts of quirky, bespoke and beautifully crafted extras. Aqua Plumbing and Heating installed all their unusual and quirky bathroom, cloakroom and copper sink fittings, amongst other things constructing a made to order copper pipe hanger, plus a bespoke copper pipe wraparound alcove heater for keeping coats warm and dry! We also installed their specially designed sinks beautifully hand crafted by our local potter Dave Rogers at Vinegar Hill Pottery.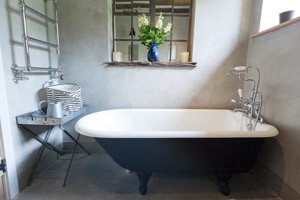 Aqua Plumbing and Heating project managed all the bathroom and cloakroom installations, including coordinating all the trades to complete the carpentry, tiling, polished plastered walls in the wet-room, polished concreted floors and installing all bespoke fittings and sanitary ware. It's a joy to behold the end product, these apartments really are beautiful and truly unique. A testament to the vision and creativity of the Heathcote family and the skill of all the trades involved in making it a reality.