In-Roof Solar Panel System
Posted on: 01/06/15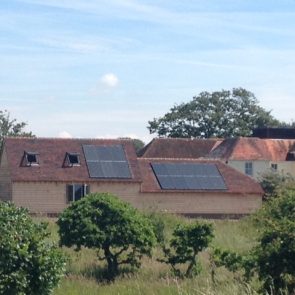 The smarter way to install Solar PV.
Our customer wanted a renewable energy installation but was very concerned about how Solar PV panels would look on their roof. As the house is located in the South Hampshire Coast Area of Outstanding Natural Beauty (AONB), it was vital that the final installation was empathetic with its surroundings, so we recommended an In-Roof Solar PV installation.
We carried out all the plumbing and heating work throughout the complete bothy refurbishment and fitted the solar panels to the roof of a separate garage. The solar panels have been installed so they supply power to whatever is drawing it, whether it's from the bothy, the garage or the main house. If any power is still not being used, it will heat the hot water tank via the new solar iBoost which we installed in the main house.
In order to ensure the installation was as cost effective as possible, the photovoltaic panels were fitted on top of a waterproof rubber membrane system with the panels fitted to the roof rails on top. The tiling was then done around it.  This meant less tiling was required, resulting in a saving of nearly 15% on the cost of the tiles. For a 4kW solar PV system the customer saved 25 square metres worth of roof tiles.
The panels now run flush with the roof tiles, so they look sleek and tastefully modern.
Thrilled with the end result, the customer told me she couldn't wait to see the saving she made on her electricity bills.