Plumbing Engineer's 12 steps to working safely in your home (Checklist)
Posted on: 10/06/20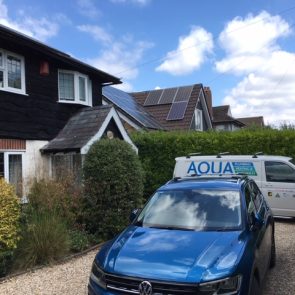 BUSINESS AS USUAL
Here at Aqua Plumbing & Heating, it's business as usual as we continue to provide a full plumbing, heating and bathroom refurbishment service, in and around the New Forest, New Milton and Christchurch areas, in accordance with the latest government COVID-19 guidelines.
Our offices open 8am – 5pm, Monday to Friday.
Given the COVID-19 situation and because we've got the safety of our customers and staff top of mind, the Aqua Plumbing & Heating team have introduced the following guidelines for every customer visit.
So when you call the office and request an appointment you know what to expect when your Aqua Plumbing & Heating engineer comes round.
Here's our 12 step customer visit checklist:
For the continued safe provision of our service, you must inform us if you are self-isolating and tell us the reason, if you are ill with the virus symptoms, we cannot come in. We will ask when we arrange your appointment.
We ask that where possible you leave all internal doors open prior to the engineer entering to minimise contact with door handles.
The engineer will attend the property and knock or call to inform you he has arrived.
The engineer will move back from the door in anticipation of you answering the door.
We request that you explain to the engineer where the appliance is located within the property and explain directions to it, do not accompany the engineer to the appliance.
You must then ensure you move to a different room within the property, prior to the engineer entering.
The engineer will not be able to accept anything to drink, so as kind as the offer is, please don't offer him anything.
We ask that you remain confined to the room you have chosen as your isolation point, whilst the engineer works on the appliance.
The engineer will carry out the boiler service or appliance work.
Upon completion, the engineer will wipe down surfaces, vacate the property and shut the door behind him.
He will then knock the door, call you and step back from the door.
He will stay at least 2m away while he advises completion of the work and whether any further work is necessary.
If you have any queries or require any further information please don't hesitate to call the office during our normal opening hours (8am – 5pm, Monday to Friday) on 01590 671875 or email [email protected]