Applying Conventional Plumbing Skills to an Unconventional Brief
Posted on: 29/07/20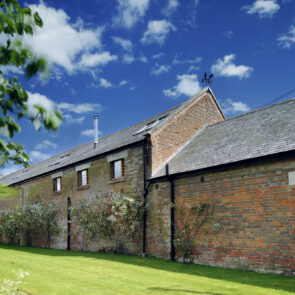 Five years ago, we posted a blog about a stunning local renovation project we'd recently completed up at Warborne Farm, winner of the Agricultural Building Design Award 2014.
Owners, George and Kate Heathcote having the vision to turn traditional agricultural buildings (barns to you and me!) into luxurious, but charmingly quirky eco holiday lets.  
5 years on and Warborne Farm is still a family-run farm, well known for offering much-coveted luxury stays in beautifully converted and uniquely decorated boutique barns in this beautiful corner of the New Forest National Park, just outside Lymington and close to the sea.
Back in 2014, Phase I of the project saw the Brick Barn and the Long Barn being converted, with 3 more for Phase II. A total of 9 months on-site, our team of plumbing and heating installers worked closely with a fabulous local building team Kilford Building Services who carried out all the construction. Building timber frame walls within the brick skin outers and because it's heavily insulated, the heat loss through the building is minimal.
We did all the plumbing and heating throughout, installing Air Source Heat Pumps and Solar Thermal for the hot water and in keeping with the client's brief to keep the clean walls clutter free and fairly minimalist, installing underfloor heating throughout the ground and first floors to limit the number of radiators needed to keep the accommodation lovely and snug.
We have a great relationship with the owners, who wanted to achieve a very distinct industrial style, marrying industrial materials with rustic charm, so guests were immersed in the charm of the farm, feel the authenticity of the barns but with no end of quirky features and sumptuous comforts.   Some more traditional style bathrooms and shower rooms, but others more in keeping with the agricultural feel of the building, for example; a wet room complete with polished concrete finish.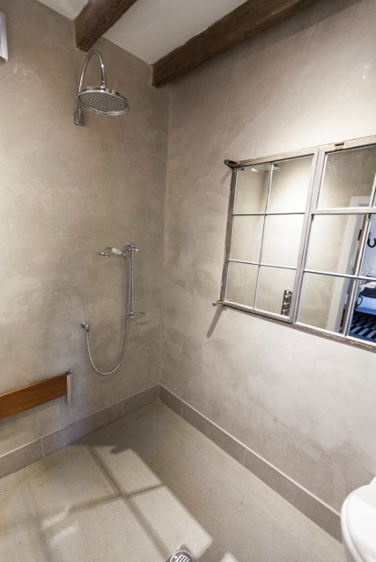 Aqua Plumbing Director Sean explained "Kate had a really good eye for the traditional and quirky and had already sourced some beautiful pieces for the barns, but she had a very definite idea what she wanted to achieve with the bathrooms, so was keen to source most of the sanitary ware herself."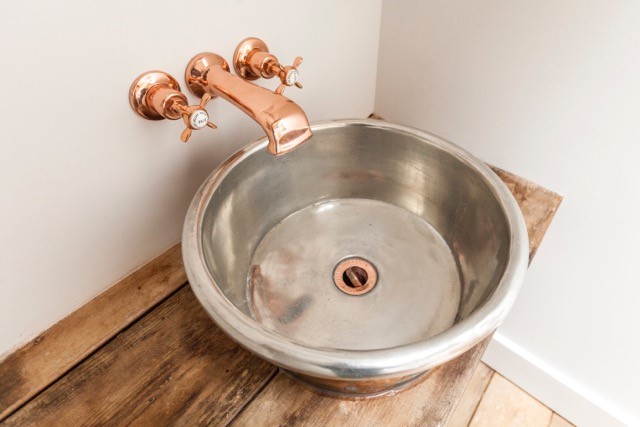 "She'd come to us with steel and porcelain bowls which she wanted to double up as sinks and basins.  More often than not, they weren't already sinks, so there would be no hole for the waste, taps or support to hang it from, so it was up to us to make everything work, fit and look beautiful.  Using the right tools to drill holes for waste pipes, find fittings for plugs and wall mounting taps and basins."
"Warming to the theme, we even came up with the idea of using commercial-sized copper piping around an alcove at the top of the stairs in the Grain Loft to heat boots and coats for guests when they came in from a winter's walk."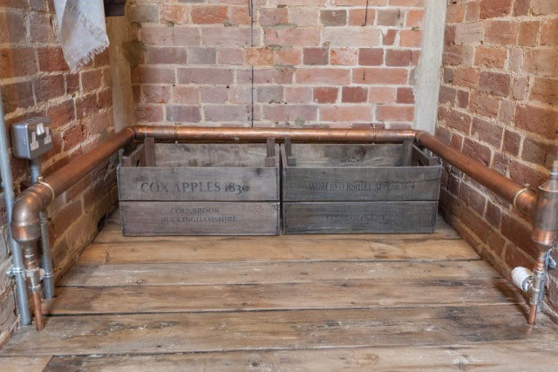 One of the sinks was a beautiful Vinegar Hill Pottery basin, handmade by Milford-On-Sea based master potter David Rogers, on his potter's wheel.  But as a basin of course it had no plug or drain-away for the waste, so by using the right cutting tool we carefully drilled a hole in the clay bowl so as not to damage it and mounted a mixer tap on a wooden shelf to suit the style.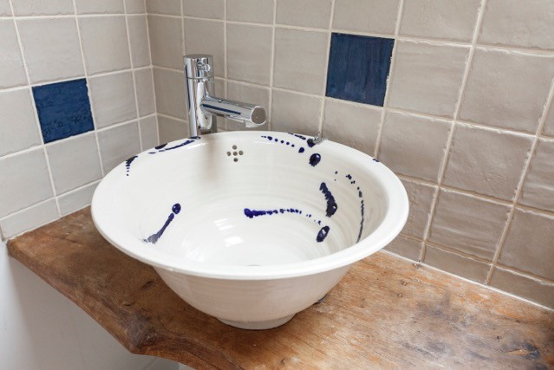 All the accommodation was completed to an extremely high quality, with charming additions and unexpected agricultural features throughout.  A lovely project and one we're super proud of.  To see more visit www.warbornefarm.co.uk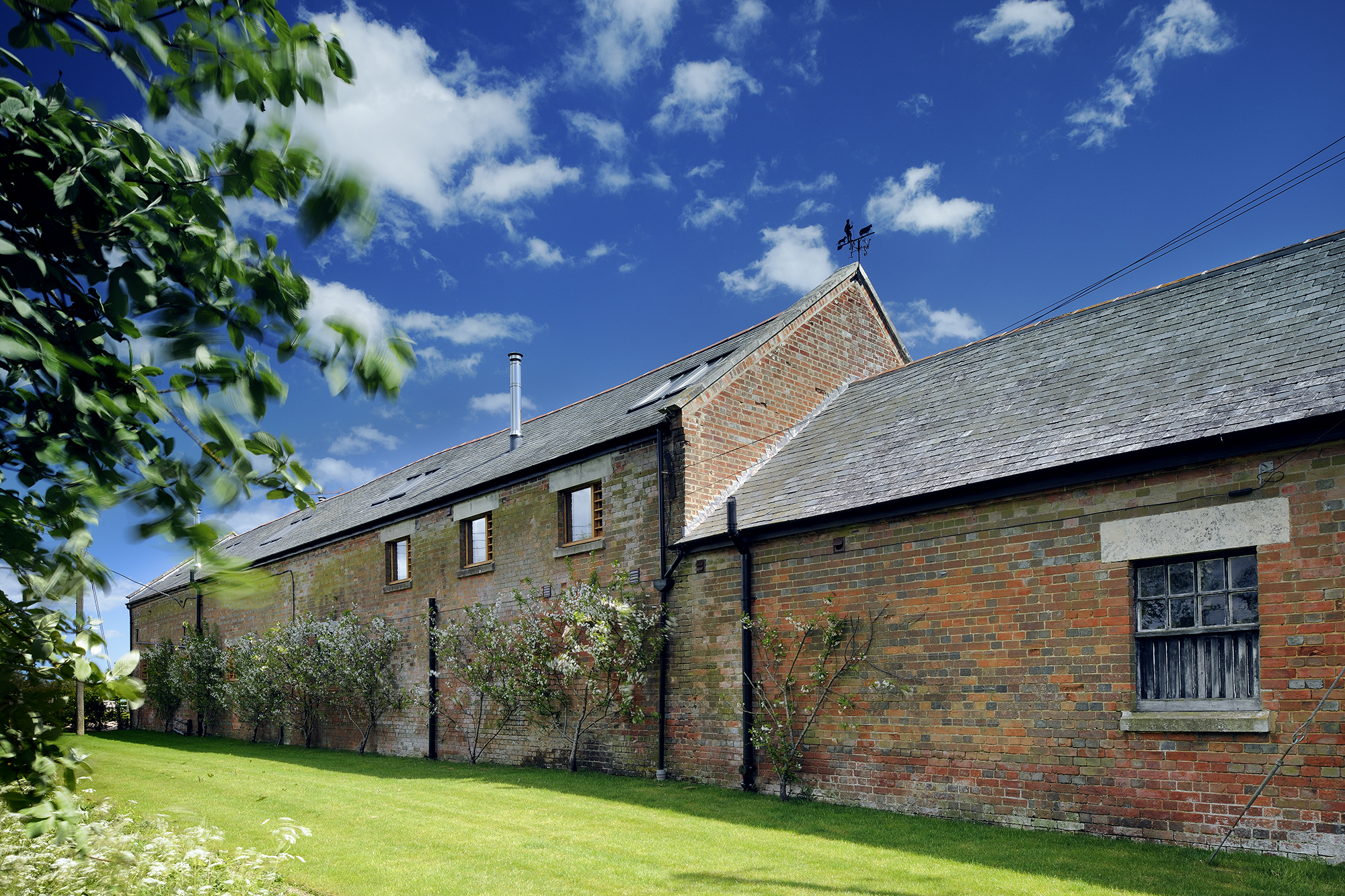 If you'd like an experienced, happy with the unconventional, plumbing and heating team to help pull your building project together, just give us a call on 01590 671785 or email [email protected] – we're happy to help!
Categorised in: Latest News